One of the most popular applications of LED strip lights in recent times is the installation of strip lights in ceilings. The fantastic, indirect glow of this type of installation makes great ambience when you are relaxing at home.
The easiest way to achieve this is with a pre-existing bulkhead already installed (image below). This option allows you to fit some easy flat bar aluminium extrusion for heatsinking, lay your strip and connect it to a power supply.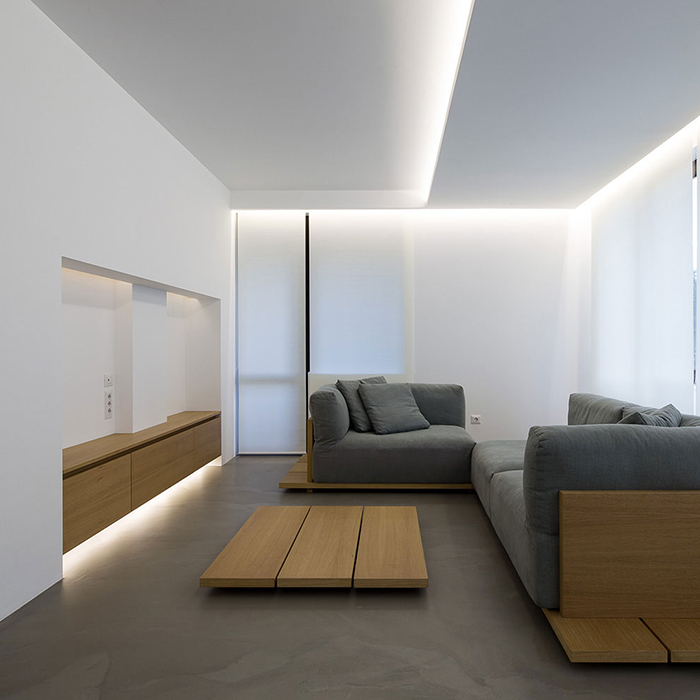 However this is not always feasible so what other options do you have available? Luckily you have come to the LED experts and we have tons of experience in this area and will gladly assist you with your ceiling led lighting requirements.
This option is fairly straight forward for most DIY enthusiasts and involves replacing your ceiling cornices with LED cornices. Once installed we still recommend the aluminium flat bar for heat sinking your strip lights to ensure the longest possible lifespan. As the saying goes doing it correctly from the start will save time and money down the road.
We have a few options of cornice available but if you are specifically looking for uplighting the ceiling then either the Curve or Straight uplight cornice option is what you will require.
These will create a wonderful linear glow around the room and let me tell you most clients are surprised with the amount of light produced this way.
Recessed Extrusions
Another option for ceiling led strip light installation is the use of recessed extrusions. This will most likely require the help of a ceiling contractor.
The specific dimensions of the extrusion is cut out of the ceiling board and the extrusion then slots right in. The strip lights are fitting inside and the power cables go into the ceiling where they are connected via a led transformer into the mains.
As you can see below one can get very creative with this application to create ultra modern led ceiling installations. But please ensure your contractor is experienced enough to complete a complex install